CBC Television : ZED - Website Design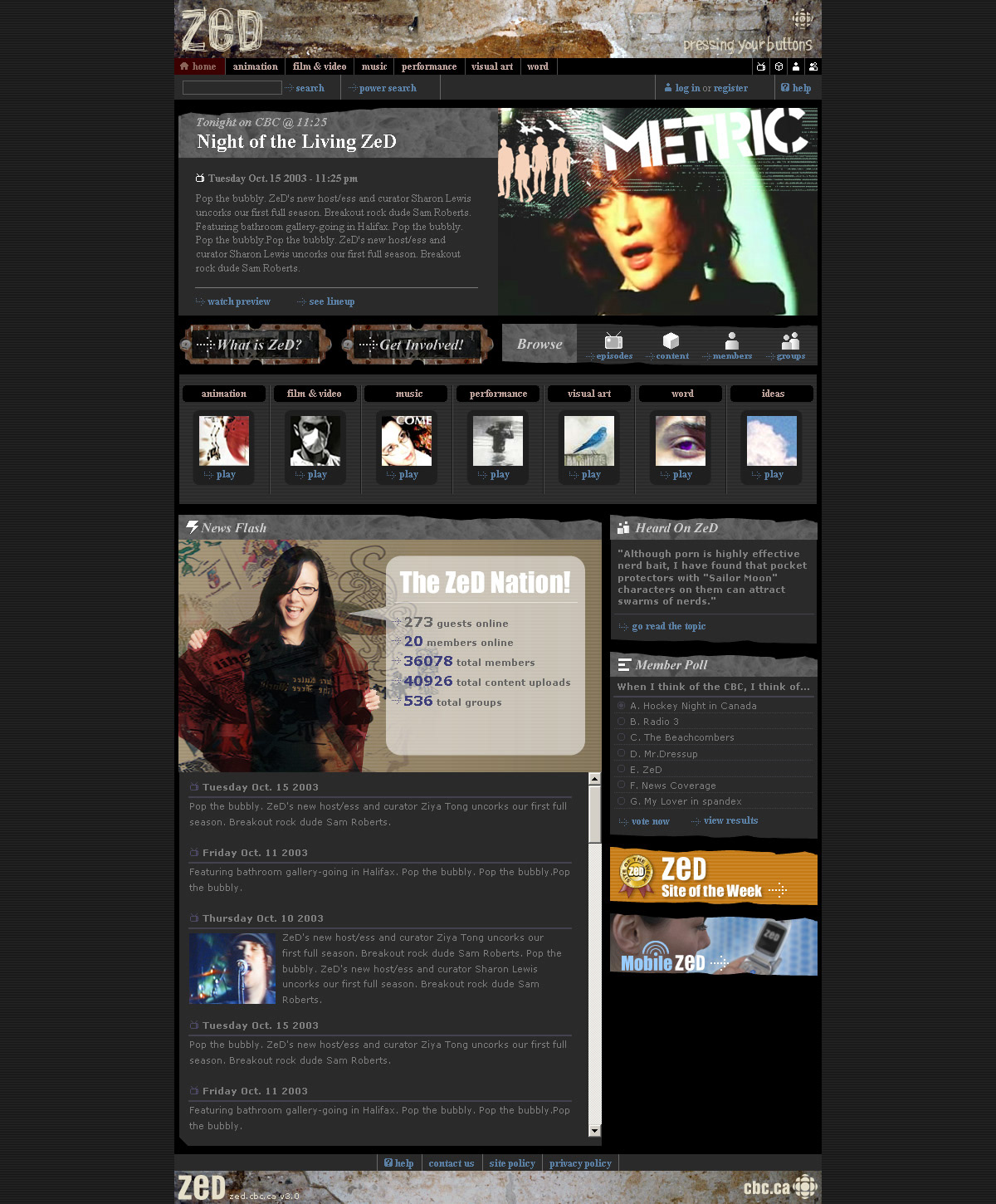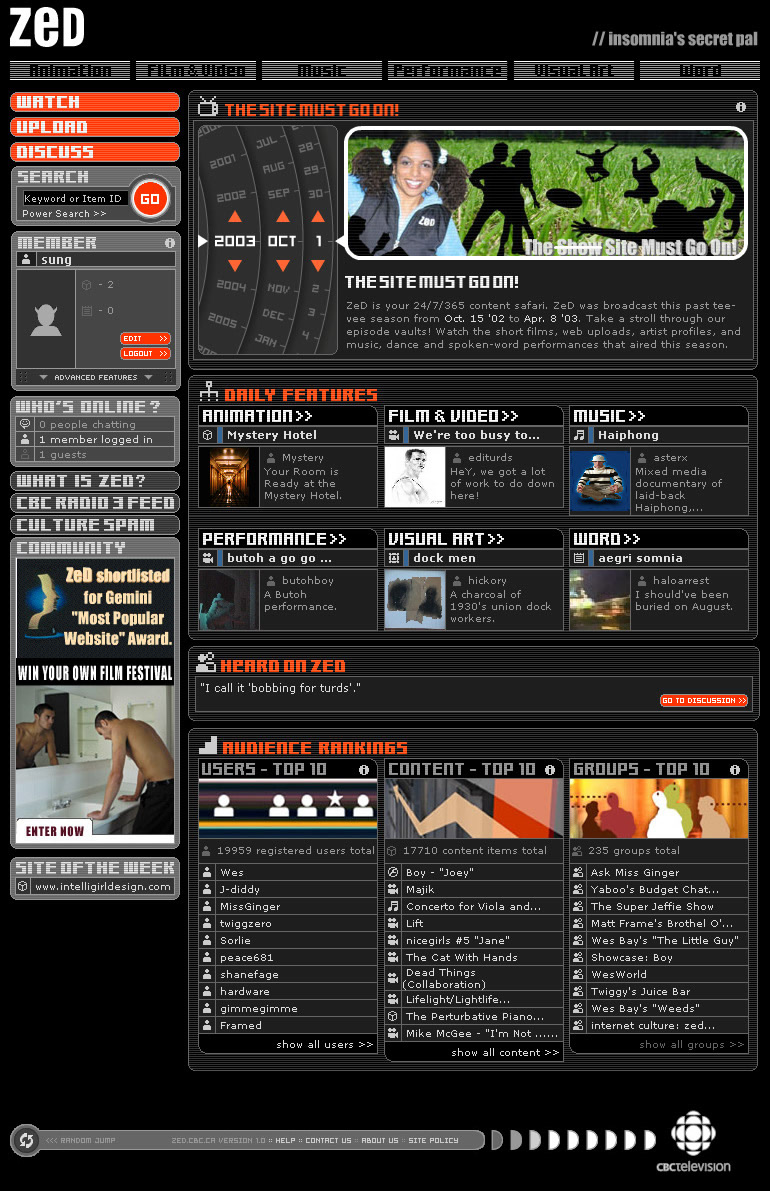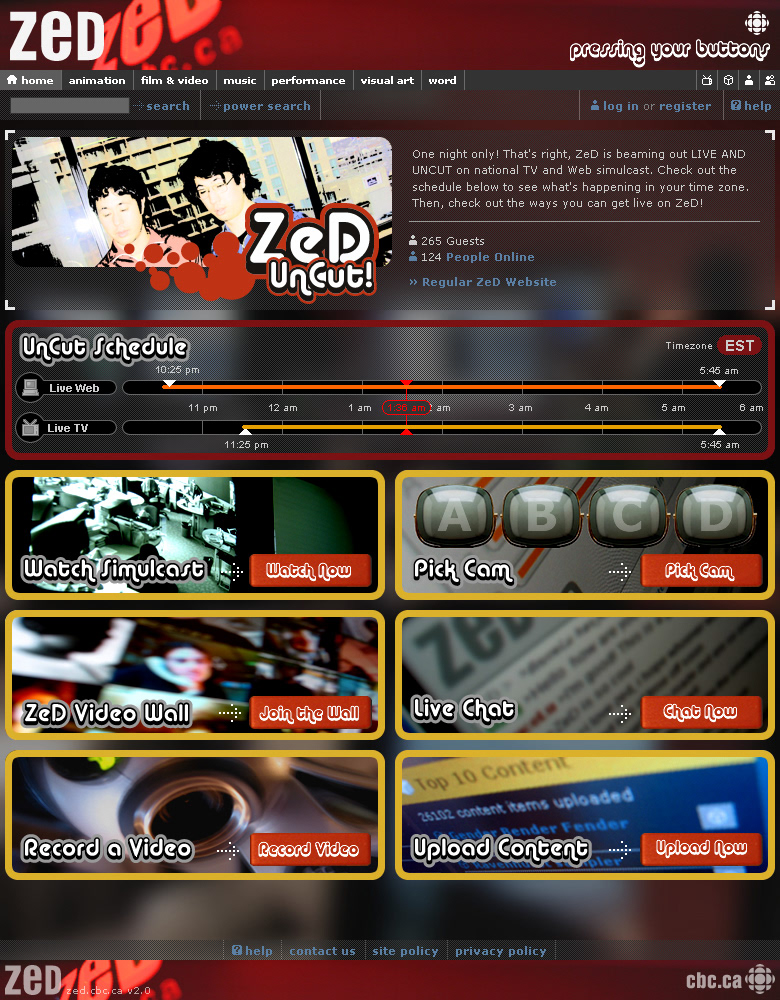 Zed, the program which aired every weeknight on CBC, played original music, short films, animation, performance, visual art and spoken word pieces from around the world. Many of which were user generated content uploaded through the website. Zed was basically a free outlet for all kinds of creative talent, to share their work with the world. Zed was conceived from an idea of creating a 'web+TV' hybrid platform, a launch pad, and a network for creative talent in Canada. Utilizing the website as an integral part of the show, not just as a promotional vehicle, which most TV show websites still are. Throughout the 4 seasons, more than 40,000 users had uploaded more than 50,000 pieces of content. Most part of the site was created, and run by users and it's communities. User's involvement was very important. Once a user uploaded a piece of content, the number of views and ratings by other registered users influenced what would eventually get on TV.
With it's young; maybe a bit mischievous editorial voice, and a selection of edgy content, Zed brought younger audiences to the late night time slot for the CBC. Quite ahead of it's time, Zed directly inspired and influenced many other sites to follow such as current.tv.
There were many design, usability, and technological challenges to overcome for the website. User friendliness was an important goal, in order to navigate through the massive number of content. Working in conjunction with the TV show also introduced extra challenges since the TV had many priorities that sometimes conflicted with the goal of the website. However these challenges were never seen as obstacles but rather as our chance to explore exciting innovation.
Version 1 of Zed's website introduced dynamic flash embedded fonts to generate custom headers. Very much like a manual version of sIFR way before it was introduced, however the idea was the same. Using this method we were able to produce custom designed font treatments to all the headers throughout the site very efficiently. Another feature of the site was an intuitive calendar interface that let you browse through the episodes. This episode browser talked to the database to look up episode information, and was a prominent feature of the home page.
In Version 2, and 3, a crazy concept was realized. "Why stick with one design when we can create a new skin for the homepage every week?" Thus the skin-able website was born. After 2 seasons of skin making we ended up with over a dozen skins that the users could choose from their preferences. Above shows a couple of examples that were very popular. In addition to the weekly skin design, an interactive top banner was designed to emphasize the weekly theme, and to give more interest to the site.
Many of Zed's original formats and concepts went through a huge reshaping on the 4th season. The website was designed to reflect this change. Most importantly a new brand, and image was created for both web and TV platforms.